Foldable shopping Bag PDF Sewing Pattern – 3 Variations
Always with you: the practical folding bag LOLA_B. When not in use, it is quickly folded into the sewn-on front pocket and waits in your handbag to be used.
Beschreibung
The foldable shopping Bag Lola_B is not lined to minimize fabric consumption and is sewn quickly. All open edges are edged decoratively with a bias tape. You can see in advance how this works in this short film (sorry its in german): IRON AND SEWING BIAS TAPE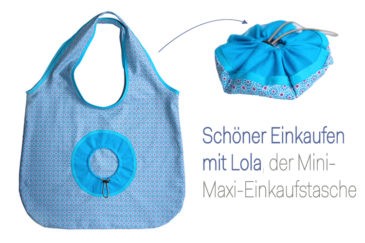 How many sewing versions do the sewing instructions contain?
You can sew 3 completely different folding bags according to the instructions, depending on your taste and sewing ability.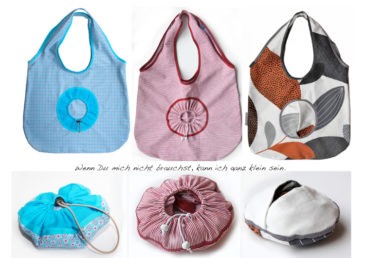 How much fabric does the LOLA_B folding bag pattern need?
To sew  the foldable bag you will need:
Cotton 75 cm [29 1/2″] (width at least 110 cm [43 1/4″])
With plain fabrics the pattern can also be laid crosswise, i.e. in weft direction, in which case a width of 55 cm/140 cm [21 5/8″/ 55 1/8″] is enough.
Depending on the variant, other ingredients such as:
Bias binding 3.5 m [3 7/8 yd]
Round elastic 44 cm [17 3/8″]
1 stopper
2 eyelets 4mm [1/8″] diameter
matching thread
Cotton 20 x 40 cm [7 7/8″ x 15 3/4″] 2nd colour
Show me, how to fold the bag:
When you buy the pattern book you will receive the following PDF files:
– Illustrated sewing instructions in PDF format – 10 pages
– Pattern in original size (PDF format for print and glue)  – 12 pages
– Pattern bag as plotter file in DIN A0 format (for printing in a copy store)
After paying for the ebook, you will receive a link that will take you to your PDF files.
© Copyright: This e-book is the intellectual property of b-patterns.com. The copying, sale and distribution of this e-book is not permitted. The pattern and instructions are for private use only.
Zusätzliche Informationen
Alle Bilder mit Tag #falttaschelola auf Instagram ansehen.