Project Bag PDF Sewing Pattern/Knitting bag pattern – 2 Sizes and travel edition
Functional pattern for project bag with variable inner compartments and carded edge for better work. The pattern contains two sizes and as a special edition a travel version. And to be honest, the project bag is just too beautiful to just stand on the sofa
Pattern and sewing instructions are PDF files, not paper patterns
Beschreibung
Description Sewing Pattern: Projectbag BI&SI
The project bag Bi&SI pattern leaves nothing to be desired. The sewing pattern is available in 2 sizes – The choice is yours:
As a large project bag, it offers enough storage space for jumpers and cardigans – even in XL format or for long cuddly scarves and socks for the whole family.
The pattern also includes a 20% scaled down version for smaller volume projects such as socks or hats etc. The divided interior pocket is perfect for keeping your instructions, circular needles, double pointed needles, crochet hooks etc. well organised. Your stitch markers are attached to a ring, ready to hand at all times.
The characteristic Japanese drawstring closure narrows the opening (more or less, depending on fabric quality), which can also be closed with a magnetic button.
Fold out the edge for better knitting!
With both sizes, you can roll the top edge of the bag outwards. While you are knitting or crocheting, this feature makes it easier for you to access and work in general. Ingenious, isn't it?

The travel edition:
As a special option, we have developed a travel version of the project bag: You can attach a long shoulder strap to keep your hands free during transport. Also choose a robust outer fabric,
e.g. Dry Oilskin. This keeps the contents protected, even when it rains or when it's windy and sandy on the beach. If you would like to add a zipped interior pocket for this edition, you will find it in the instructions.
The pattern offers many possible combinations in the choice of fabric, wearing comfort and pocket division in the lining.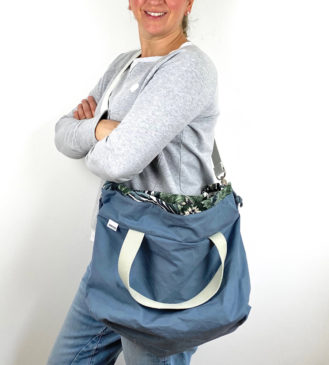 From what materials you can sew the projectbag:

Canvas, jeans, dry oilskin, tweed, upholstery fabrics in light to medium weight qualities, wool felt, velvet. Fusible fleece interfacing lends stability to the bag without making it unnecessarily stiff. You can also use more "stiffening" interfacing if you wish.
Material recommendation original size (details for the reduced version in brackets):
65 (50) cm [255/8″ (193/4″)] outer fabric (width 140- 160 cm [551/8″ – 63″])
80 (65) cm [311/2″ (255/8″)] interior fabric (min. 110 cm[431/4″] wide), e.g. cotton poplin*
55 (45) cm [215/8″ (173/4″)] fusible fleece interfacing H630 or H640 Freudenberg or similar
40 (17) cm [153/4"(63/4″)] fusible interfacing H200 Freudenberg or similar (for the interior pockets) width 90 cm (353/8")
matching thread
2.80 m (2,40) m [3 yards (2 yards)] cord for the Japanese closure (optional)
2 x 40 (2 x 33) cm [2x 153/4″ (13″)] strap for the handles (3,5-4 cm wide [13/8″-15/8″])
1 closure (e.g. magnetic button or Loxx stud button)
1 key ring approx. 2-2.5 cm [3/4″-1″] diameter, 8 cm [31/8″] tape
110 (90)cm [431/4″ (353/8″)] piping (optional)
Additionally for the Travel edition:
For the long shoulder strap and holder (optional):
140 cm [551/8″] strap for the shoulder straps
2x 7.5 cm [3″] strap for the D-ring holder
1 matching tri-glide buckle
2 matching D-rings, 2 matching carabiner hooks
When you buy the pattern book you will receive the following PDF files:
– Illustrated sewing instructions in PDF format – 14 pages
– Pattern project bag in original size (PDF format for print and glue) in black and white – 9 pages
– Pattern project bag 20% reduced (PDF format for printing and gluing) in black and white – 6 pages
– Pattern bag as plotter file in DIN A0 format (for printing in a copy store)
After paying for the ebook, you will receive a link that will take you to your PDF files.
© Copyright: This e-book is the intellectual property of b-patterns.com and SpringiDesign. The copying, sale and distribution of this e-book is not permitted. The pattern and instructions are for private use only. Currently no licenses are granted.
Zusätzliche Informationen
Alle Bilder mit Tag #projekttaschebisi auf Instagram ansehen.